Hello and happy Wednesday!
With Valentine's day coming up next week, we wanted to share some of our favorite Valentine's day themed interventions with you! We hope you enjoy!
Valentine's BINGO
This first intervention is a holiday classic that I typically use in my high school and middle school groups! BINGO is a great music game that you can use for almost any age group! To try the BINGO generator that I use, click here! My playlist includes songs like "Cupid Shuffle" by Cupid, "L.O.V.E" by Nat King Cole, "Baby Love" by the Supremes and many more! The options are endless, because there are so many songs out there about love!
A Love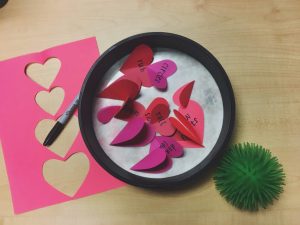 ly Scarf Intervention
This intervention comes from a past blog post written by our own music therapist, Anusha! You will want to check out the full post here, because it is so much fun! Working on gross motor movement with colorful hearts and scarves while playing the classic game hot potato makes for a very fun and engaging intervention that your clients are sure to enjoy!
Hey Guess What? It's Valentines Day!
This is another intervention from a past Toneworks blog post, written by Andrea! To check out the full post, be sure to click here! In this intervention, Andrea uses a variation on the theme song to the Beverly Hillbillies that prompts children to identify body parts and the color of each heart they are holding!
We hope you LOVE these interventions as much as we do!
Thank you for reading and have a great rest of your week!
Emily Knezz