Hello and happy Wednesday! We hope everyone had a wonderful and safe holiday!
Today's DIY resource is a weighted glove fidget that we found from the OT Toolbox! If your household is anything like mine, throughout the winter unmatched gloves are as common as unmatched socks! This fidget is a tool that can be used to help your child with focusing or calming down. Not only is the final product a useful fidget to have, but having your child help make the fidget allows them to work on fine motor skills!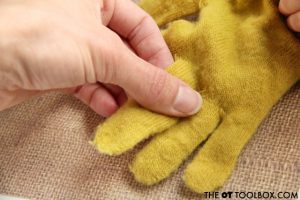 To make it you'll need:
A glove
Dry Beans (Or corn or rice)
String and needle (or 2 Rubber Bands)
Spoon
Step one: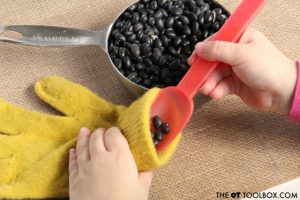 Use the spoon to scoop the beans into the glove. The OT Toolbox notes that allowing your child to scoop the beans is great for working on motor planning!
Step two: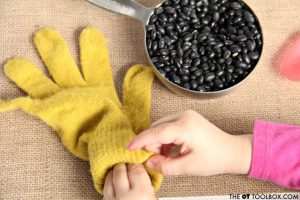 For the second and final step, you can choose to either sew up the opening of the glove (for an adult or teen to do), or tie it close with a rubber-band!

There you have it! A very simple fidget that allows your child to work on fine motor skills!
The OT Toolbox offers several awesome suggestions for this glove fidget! One suggestion is to use the fidget on a knee under a desk to provide some heavy weight input through the calf, adding the weighted input through the knee can provide proprioceptive input that is calming for many children.
We hope you enjoy making this weighted fidget! Thank you for reading!
Emily Knezz, Toneworks Music Therapy Intern