As we welcome our last full month of summer, we want to look back at the fun and awesome things we did during July!
Autism Society of Minnesota's Wahode Day Camp
We had an amazing time making music with the campers at AUSM's Wahode Day Camp! Some of the camper's (and our) favorite activities were:
Playing music games: Bean Bag Pass, Guess the Leader, and Song Snowman
Making music with fun instruments like shakers, drums, and other various percussive instruments. We even used frame drums to play a beach ball pass activity!
Playing with scarves and a big parachute for movement songs
And dancing to camp favorite songs!
Some favorite songs were:
Can't Stop the Feeling – Justin Timberlake
Shake Your Groove Thing – The Chipmunks & the Chipettes
Shake Your Body – KC and The Sunshine Band
The Hamster Dance Song
Surfin' USA – The Beach Boys
Rocketship Run – The Laurie Berkner Band
After each session, our campers had some well-deserved relaxation time. Read our What's in Our Fidget Box blog post to see what fidgets our campers used during relaxation!
When we weren't making music, we had the opportunity to watch our campers succeed in other activities such as; horseback riding, canoeing/boating, rock climbing, swimming, and occupational therapy activities
If you're interested in more information about AUSM's summer camps, click here.
A Musical Day at Minneapolis Institute of Art
Another day camp that AUSM provided was A Musical Day at the Minneapolis Institure of Art! This day camp was all about observing, discussing, experiencing, and making art.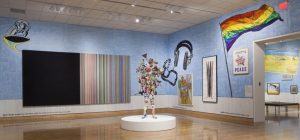 First, the campers were given a tour of one of MIA's newest exhibits, Now Where Were We? We then had a blast making music, playing music games, and creating a short music video with our music therapists! We ended the day by creating artwork of our own. Campers made their masterpieces out of tissue paper, tape, pom-poms, construction paper, and many more materials. Our campers were tuned into their creative artistic minds all day long!
Looking Forward to the School Year
As our summer agenda begins to wind down, we look forward to the beginning of the new school year. We are excited to see some familiar faces as well as some new ones! Our team at Toneworks has some great ideas for the upcoming school year and we can't wait to share them with you soon!
What fun moments have you had this summer? Are you looking forward to the school year? Let us know!
Alannah Forstner, Toneworks Music Therapy Intern